Sign Up Online for Whitecoat Pro
Process WorkSafe Victoria Claims instantly.
Our new integration with WorkSafe Victoria allows you to electronically process claims and check the eligibility of WorkSafe participants in real-time through our Merchant Portal or Whitecoat Pro app on iOS and Android. 
Improve your practice performance today.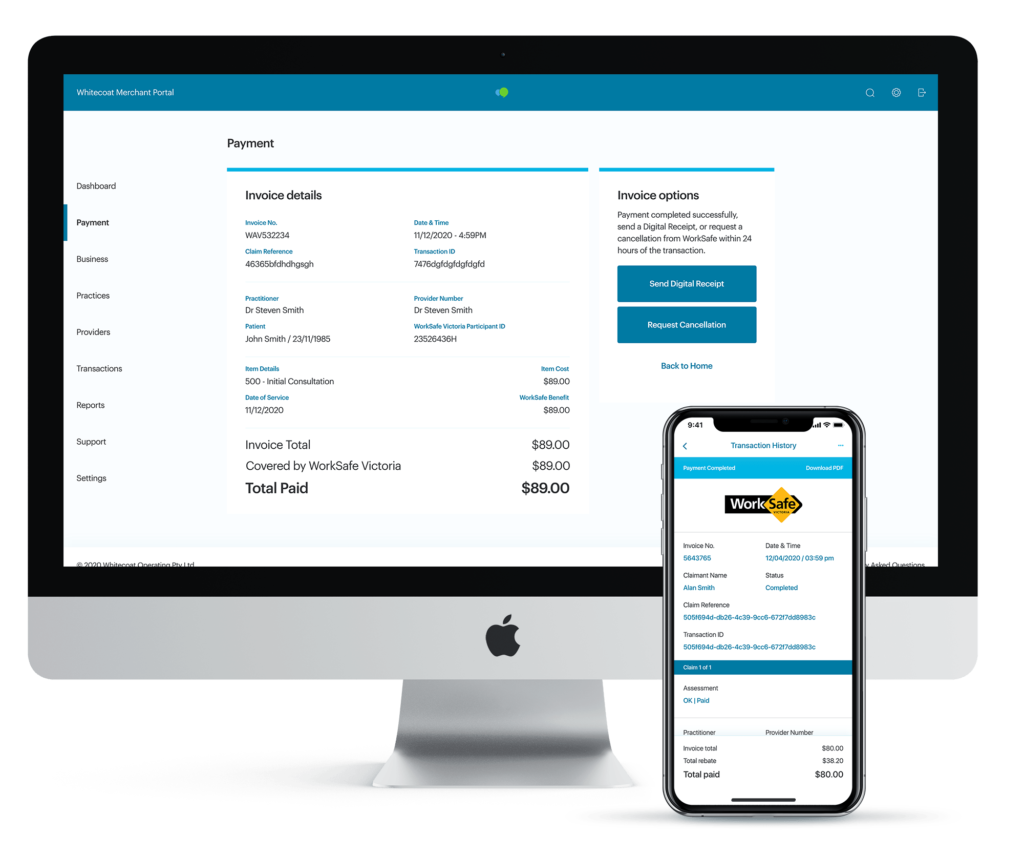 Designed to streamline your Practice.
An improved claiming experience for providers and participants
Our claiming solution seamlessly fits into your practice workflow, we want to make your job easier, and make your patients happier. By reducing the time spent on manual claim forms and waiting on responses, you'll free up your front desk, knowing you'll be getting paid faster.
Process claims and check the eligibility of participants instantly with our direct integration to WorkSafe Victoria using Whitecoat Pro (iOS/Android) or the Whitecoat Merchant Portal.
Payments for approved claims are automatically settled to your account within 1 business day with no hassle or delays. Our Whitecoat Merchant Portal gives you up-to-date reporting and reconciliation.
Simplified Reconciliation
Our solution makes it easier for you to reconcile your payments. Through our Merchant Portal, you can quickly access real-time reports and your detailed transaction history.
Our solution is 100% paper-free, which means no more claim forms and no need to store your old receipts, your transaction history is securely stored in the Whitecoat Merchant Portal.
What our providers are saying...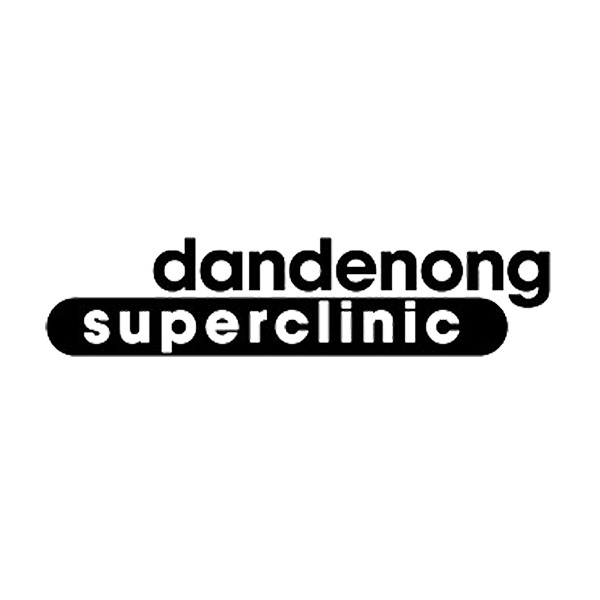 Honestly thank you and thank you for the WHITECOAT PRO app. Sincerely appreciate the efficiency and great service for Workcover claims paid
Dangenong Superclinic Dangenong VIC 3175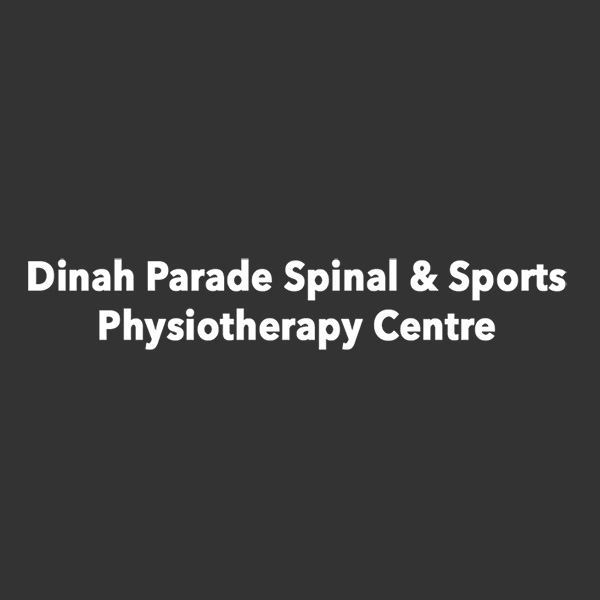 Easy to use. Speeds up processes. Looking forward to new features being released in future
Dinah Parade Physiotherapy Keilor East VIC 3033
Free claims for the first 3 months
As part of the phased rollout, we're waiving our monthly access fee, so you can process unlimited claims for the first 3 months, free of charge.
Register through the Whitecoat Merchant Portal and process claims through your desktop.
Mobile App and Online Claiming
Process claims on-the-go or in Practice with our Whitecoat app or on your Desktop directly in the Whitecoat Portal.
After creating an account, once your details are verified and approved, we've made it easy for you to process claims for a WorkSafe Victoria participant using our Whitecoat Pro app, or our Payments functionality within the Whitecoat Merchant Portal.
Start a new invoice and choose the Provider you wish to bill for.
Add your patient details, including their Name, WorkSafe Victoria Participant ID, date of birth and mobile number.
Add the services to the invoice by selecting the item code, add your cost and any additional details required.
You can check the eligibility of the patient beforehand, or process the claim directly with WorkSafe Victoria.
Send your patient a Digital Receipt to their phone, with confirmation of their appointment and services.
Need to roll-back a claim or make changes? You can do this electronically on the same day.
Ready to start processing electronic WorkSafe Victoria claims?
You can register online or by downloading the Whitecoat Pro app for iOS and Android. Once your details are in, please allow 24 hours for us to verify your account.
Start transacting within hours
Getting set up with Whitecoat to process WorkSafe Victoria claims is simple and hassle-free. With no paper forms to send off, you'll be able to start processing transactions as soon as we approve your details.
You can register online or via Whitecoat Pro,  just be sure you having the following details handy:
Frequently Asked Questions
The Whitecoat solution makes payments quicker and easier for WorkSafe Victoria claims.
Payments for WorkSafe Victoria transactions are processed by Whitecoat the next business day and paid into your account within 3 business days depending on your Bank. You can double check the details in the Whitecoat Merchant Portal at https://merchant.whitecoat.com.au/login
How do I see my statements and remittance advice for payments?
Receive one daily payment instead of multiple, with full reconciliation reporting online (no more remittance emails and complicated reconciliation).
You can view your Transaction history in the Whitecoat Merchant Portal by navigating to the Transactions page or the Invoice Reconciliation page. You can also find the details within the Whitecoat Pro mobile application by clicking the History tab. This will include the Amount, Status and Patient details for your reference.
See the Whitecoat Reconciliation Reporting User Guide for additional details.
I have questions about a specific claim?
Every time you submit an invoice, we will display the response from WorkSafe Victoria in realtime.
If you require support to resolve issues with invoicing for a specific claim or patient, please contact the claim's designated managing WorkSafe Agent as per your usual business practice and they will be able to provide additional information. Contact details for the Agents can be found at www.worksafe.vic.gov.au/your-worksafe-agent
The Invoice Number is different to my PMS? Can I add my own PMS invoice number
The Whitecoat solution includes a unique invoice number for each transaction.
We've introduced an optional "Invoice Reference" field so you can add your own PMS or internal reference ID to every WorkSafe claim you submit from the Whitecoat Merchant Portal.
When you create a claim, in the right-hand side you will see an "Invoice Reference" field where you can add in your own ID before selecting the Process Invoice option.
This will then be shown in your reconciliation reporting for quick reference when reconciling your payments.
What happens if my invoice goes into Pending Review?
If WorkSafe Victoria has put your claim under review, you can wait for a response from the Agent.
This may take approximately 2 business days and the invoice will update automatically in the Whitecoat system. If the invoice is approved, we will process the payment directly. If the invoice is rejected, you will need to action this accordingly.
You can find out more information in the Whitecoat Merchant Portal Pilot User Guide.
You can contact the WorkSafe Provider Support Team for a specific explanation as to why the service/s require review. Additional WorkSafe Support Information is available here: https://www.worksafe.vic.gov.au/payments-platform
Can I process Telehealth items?
Currently WorkSafe Victoria do not support Telehealth item codes for the pilot for WorkSafe real time claiming so you will need to submit telehealth items using the old process.
Visit the User Guide provided on sign up to find the list of item codes supported for GP and Telehealth.
My invoice declined but I've used a valid Participant Claim Number?
The response you received has come directly from WorkSafe Victoria so you will need to contact the Managing Agent directly for additional information. You can find the Managing Agent contact details here: https://www.worksafe.vic.gov.au/your-worksafe-agent
We recommend double-checking the name, date of birth and Claim number for your patient record in the Whitecoat portal to ensure all details are correct.
When submitting an eligibility check or invoice for an injured worker, you will need their 11-digit claim number and date of birth.
Claim numbers must include all zeros (0) with no spaces or dashes.
What if I need to update my patient's details?
You can add this patient again with the updated details directly in the app or portal and resubmit the invoice.
Error message: Valid Provider Number Required
Your provider name and provider number need to match exactly to the details you have setup with WorkSafe Victoria. If you are using your Medicare Provider Number, you need to ensure the details provided match your Medicare records.
Please double-check the details are correct in your Whitecoat Merchant Portal, including the spelling of the first name and last name.
Please contact us if any changes need to be made and we can update accordingly.
I would like to clarify the WorkSafe scheduled Fees?
Which item codes are supported?
You can find the list of supported item codes for the pilot in the WorkSafe Victoria Support Information Pilot Welcome Pack sent to you via email when you registered for the pilot.
When you get to the item selection step you will have the option to search the Item Code in the portal or app, type in the item code or first few digits and it should bring up the appropriate items when you click the blue search icon to the right of the search bar.
If the item code you are looking for is not available for the pilot, you will need to invoice the item using the old process.