Process payments & claims with your phone
Whitecoat Pro is an innovative mobile payments and claiming solution for all healthcare practitioners.
Process private health insurance rebates and gap payments for your patients on-the-spot. Get started with 60 days fee free.
We want to make running your business as easy as possible so we've kept our pricing simple. Pay monthly or annually.
Designed to help your business be more mobile. Fast payments, in practice, at home and online.
Process as many transactions as you like for one simple monthly or annual ($299) fee.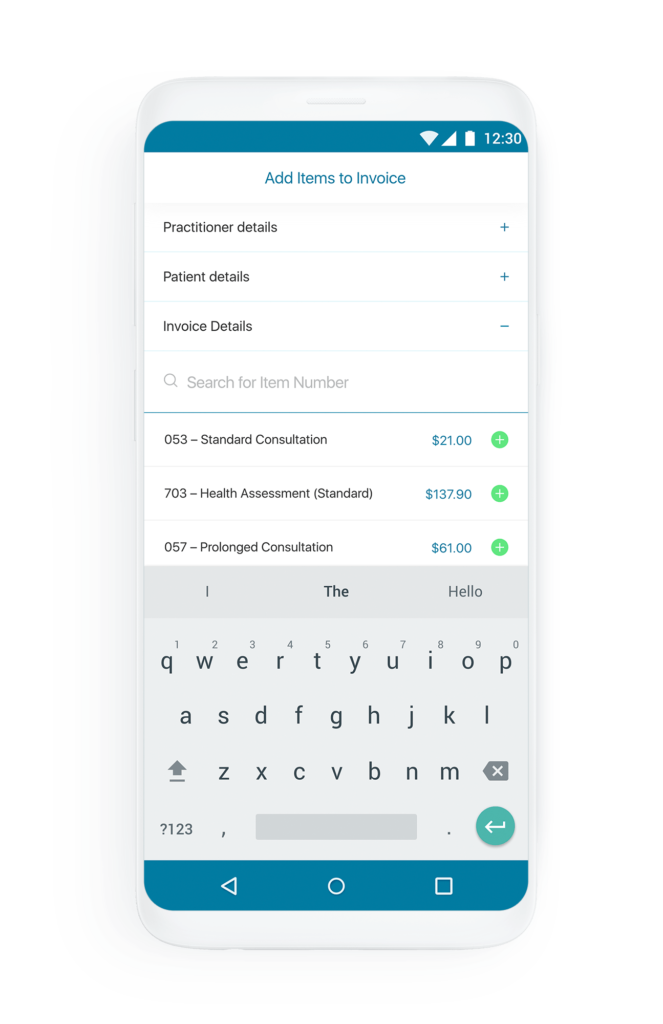 Whitecoat Pro for you and your Business
Transform the way you do business with Whitecoat Pro. No terminals, no cards, and no paper receipts. Process healthcare claims and payments at home, in your practice or on the go.
Invite your patients to download and register with MyWhitecoat so you can use Whitecoat Pro to create invoices, take payments, and process gap fees in one quick transaction.
Getting started with Whitecoat Pro
Helping your business run more efficiently
Whitecoat Pro let's you run your business from anywhere. Take healthcare payments and claims from patients with the MyWhitecoat app. Getting started is quick and simple, here's how:
Start processing payments the same day. All you need to get going is your ABN, Bank Statement, and your Medicare Provider Number letter or HPOS screenshot.
Sign up free for 60 days with no subscriptions fees and no transaction fees.
All private health insurance and Medicare payments are processed the following business day. Any gap payments are processed same day.
Whitecoat Merchant Portal
Comprehensive reporting and reconciliations
Whether you're a practice group with multiple locations or a smaller more mobile practitioner, the Whitecoat Merchant Portal simplifies reporting, giving you a consolidated view of all your transactions.
Participating health funds
Whitecoat Pro can process health insurance rebates from the following Private Health insurers, with more funds being added each week. Your patients can still use MyWhitecoat and claim manually if their fund isn't listed.
Frequently Asked Questions
Whitecoat Pro is a mobile app that enables healthcare professionals to process private insurance claims and gap payments for their patients via their mobile device. It works with the companion app for patients, MyWhitecoat.
Whitecoat Pro can also be used to process app-to-app payments, where there is no private health insurance claim as part of the transaction.
What are the benefits of Whitecoat Pro for healthcare professionals?
Quick and easy set up via the Whitecoat Merchant Portal. Practitioners can be set up and ready to process patient private health insurance claims and payments within 72 hours.
Payments settled into your account the following day
Improve the patient experience. Patients can pay and claim instantly using the MyWhitecoat app, eliminating the need for manual claims. Digital receipts make record keeping simple.
Supports telehealth claims that are approved by participating private health insurers
Cost-effective unlimited transactions for a flat monthly/annual fee
Simple reporting and reconciliation. Save time and money wasted on admin. The Whitecoat Merchant Portal simplifies reporting and reconciliation of payments and claims.
Become a favourite. Patients can save you as a favourite for ease of future booking
Local support – We are invested in your success and are here to help onboard youDigital security and anti-fraud measures means there's less opportunity for failure
Does Whitecoat Pro support Telehealth
Claims available for Telehealth are approved by private health insurers on an individual basis. If a claim type is approved for telehealth by one of our participating funds, practitioners can process those claim types using Whitecoat Pro.